Custom Made Duffel Bags

Made in the USA

Home page
The Canvas shop will help you design a canvas bag to fit your needs with many fabrics to chose from. They can add shoulder straps, pockets, plastic liners, foam rubber, zippers, draw strings, windows or what ever you think of, let them help you design a camvas bag for you.
Large quantity discounts
Give Gill a call at 812-290-4218
E-Mail
creativecanvasshop@gmail.com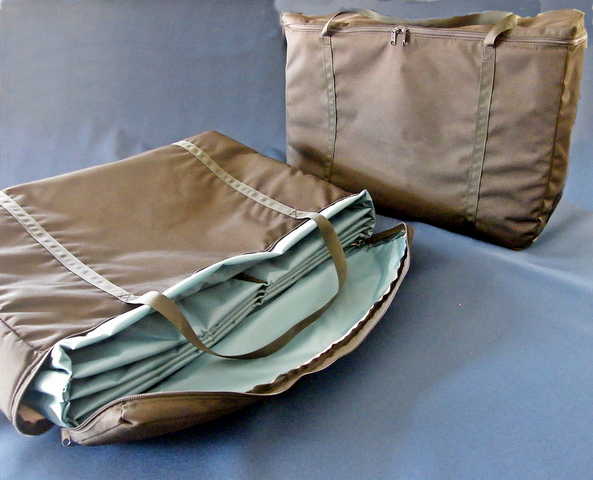 Choosing the right bag for skiing and snowboarding trips
Finding the right gear is vital for skiers and snowboarders whether they're seasoned pros or taking to the slopes for the very first time. Bindings, boots, goggles and all manner of technical clothing will dominate most shopping lists but what many people don't consider is how they're hauling it to the mountain in the first place. Winter sports equipment costs a lot of money so it's important to protect it in transit. Before anyone sets foot on the slopes, they should spare some time to think about their luggage.
Bags for skis will require many of the same materials as bags for snowboards, but the differences lie in the dimensions, accessories and padding. Snowboarding bags will of course be much shorter than skiing bags to fit the additional width of the snowboard. This type of design means that only snowboarding bags tend to be suited to having additional pockets big enough to accommodate boots as well. If you have short skis, it would be worth looking for a specially designed bag rather than trying to fit them into something designed for a board.
Padded or not?
There are pros and cons to both padded and unpadded bags. For anyone travelling by air, padding is essential as it is possible that airport staff won't be as careful with your precious gear as you might be. Typical padding could be up to 10mm of a material such as foam rubber and should protect the skis or snowboard from end to end, just in case an overzealous employee gives them some air when transferring them to the plane. If your bag is designed to carry two pair of skis, there should be a protective divider to ensure that they don't scratch each other or collide during transportation. Padded shoulder straps will also make life much easier when carrying.
All this padding can add unnecessary expense to your bag if it is not being exposed to the elements or baggage handlers. For merely keeping gear safe in the back of the car or storing it while not in use, an unpadded bag would be ample. These have the added benefit of being easier to fit onto roof racks and into storage areas. If you ever do decide to check one of these types of bags at the airport, perhaps in an emergency, it might be wise to stuff whatever manner of socks, pants and smart-wool garments you have at your disposal into the bag to provide additional protection for your equipment. Airlines poorly handling luggage is a well known problem.
Bag fastening
Several other design considerations should be taken into account, such as the type of seal the bag utilizes. The humble zipper is often overlooked but can strongly influence the strength of the bag. Buckles or drawstrings have their place, but a rigid heavy duty zipper works well because when a bag is over packed, the zipper automatically becomes the weak point. Having a sturdy seal will always keep the contents intact. Indeed, attention to detail with small elements such as this is indicative of the workmanship for the entire product, particularly when it comes to the stitches. The best gear bags for skis and snowboards often have more than one row of stitching. Piping will also add strength to the bag's seams.
Buying the right bag can be a money saving exercise with many benefits throughout a trip. For example, anyone bringing their own gear with them to the mountain saves lots on renting ski equipment when they get there. This is a great way to cut costs on a holiday as even poles and gloves can prove quite expensive when rented near the slopes. Another option is to purchase a suitably durable bag, which will not only survive this season's snow but also ski holidays 2014 and beyond as well. A material with a high denier count should prove long lasting and endure as long if not longer than the equipment it's carrying. How the bag will be used is just as important and this will depend on the contents. Bags with wheels can be useful if travelling with a whole family's equipment, but unless they have snow tires, they might not be that useful at the destination.

Specialized Duffel Bags

Design your own duffel bag.
Have them make one to fit your needs.
Snowboard bags
Fire Department Bags

Hunting Gear bags

Fishing Gear bags
Metal Detector bags

Clothes bags
Motorcycle side case

Boating bags
Christmas tree storage bags
Tailgating bags
Scuba gear bags
Travel bags
Mascot bags
Bike bags

Custom Kids bags

Trade Show bags

Life Jacket bags

Craft bags

Fly Fishing Rod bags

Fly Boxes bags

Lap Top bags

Beach bags

Camping equipment bags

Tent bags
Table bags

Folding Chair bags
Over night bag

Weekender bag
Shoulder bag
Yoga bag
Camera bag
Promotional Product bag
Parts Haul Bags

Design your own duffel bag
Have them make one to fit your needs.